Miriam Agler-Rosenbaum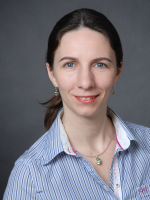 Faculty:
Aachen Biology and Biotechnology ABBt
Department:
Institute of Applied Microbiology iAMB
Group:
Microbial Electrocatalysis Group
Research interests:
microbial electrocatalysis
bioelectrochemical system
microbial biotechnology
Pseudomonas
redox mediator
wastewater treatment
Short CV / biography / description of scientific focus and achievements:
The work in the Rosenbaum Lab is focused around bioelectrochemical systems and defined microbial mixed cultures. Specifically, our research interests are the investigation, understanding, and manipulation of microorganisms in electrochemical interaction with electrodes and of inter-microbial relationships in these environments. While the overall goal of our efforts are the development and advancement of new biotechnological applications based on bioelectrochemical systems, we seek to uncover the biochemical and physiological principles of the microbial systems we use.
Academic development
Since 2011: Juniorprofessor at the Institute of Applied Microbiology, RWTH Aachen University;
2009-2011 Research Associate at the Department of Biological and Environmental Engineering, Cornell University, Ithaca, NY, USA
2007-2008 Post-Doc, Washington University in St. Louis, MO / USDA-ARS Peoria, IL, USA
2004-2006 PhD Studies, University of Greifswald, Germany
Thesis topic: "Development of microbial fuel cells for power generation from biomass"
1999-2004 Diploma Studies in Biochemistry University of Greifswald
Relevant publications:
Schmitz, S.; Nies, S.; Wierckx, N.; Blank, L.M; Rosenbaum, M.A. (2015) Engineering mediator based electroactivity in the obligate aerobicbacterium Pseudomonas putida KT2440, Frontiers in Microbiology, Vol. 6.
Rosenbaum, M.A.; Henrich A.W (2014) Engineering microbial electrocatalysis for chemical and fuel production, Current Opinion in Biotechnology, Vol. 29: 93-98.
Rosenbaum, M.A.; Franks, A.E. (2014) Microbial catalysis in bioelectrochemical technologies: Status quo, challenges and perspectives, Applied Microbiology and Biotechnology, Vol. 98: 509-518.
Venkataraman, A., Rosenbaum, M.A., Perkins, S.D., Werner J.J., Angenent, L.T. (2011) Metabolite-based mutualism between Pseudomonas aeruginosa PA14 and Enterobacter aerogenes enhances current generation in bioelectrochemical systems. Energy and Environmental Science, Vol. 4: 4550-4559.
Fornero, J.J., Rosenbaum, M., Angenent, L.T. (2010) Electric power generation from municipal, food, and animal wastewaters using microbial fuel cells. Electroanalysis, Vol. 22: 832-843.